First Look at the Garden, Now Serving in the Four Seasons
See a slideshow and some food.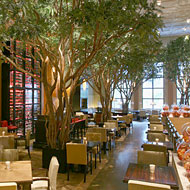 Something is growing in the Four Seasons hotel. The former 57 space reopened this week as the Garden, bedecked with four enormous African acacia trees. Equally imposing: Former Le Bernardin sommelier Lacey Rozinsky's wine list flaunting over 160 old- and new-world selections by the glass, ranging from $12 to $40 a pour. To complement it, the hotel's executive sous chef Anthony Zamora composed a menu (viewable below) with shareable plates like foie gras with raisins and Sicilian pistachios, charcuterie, and domestic and imported cheeses. Evening hours are 5 to 10 p.m., and the space also opens for breakfast daily from 6:30 to 11:30 a.m.; lunch is from noon to 2:30 p.m., and weekend brunch is 11:30 a.m. to 2:30 p.m.
SMALL PLATES

BLISTERED SHISHITO PEPPERS 8
SHAVED AGED GOAT GOUDA
SHRIMP ROMESCO 16
PIQUILLO PEPPER AND TOASTED ALMONDS
PROSCIUTTO AND MELON 12
ROASTED FIGS AND HONEY GASTRIQUE
SEARED AHI TUNA TARTARE 16
BASIL, CAPERS, FENNEL POLLEN
HEIRLOOM TOMATO PANZANELLA SALAD 12
25 YEAR BALSAMIC, COUNTRY BREAD
CRISPY SWEETBREADS 14
PORCINI AND ASPARAGUS RAGOUT
COUNTRY TERRINE 10
BERKSHIRE PORK, CHICKEN LIVER, GREEN PEPPERCORNS
CHICKEN LIVER PATE 12
CORNICHONS AND GRILLED COUNTRY BREAD
HUDSON VALLEY FOIE GRAS TORCHON 18
PICKLED RAISINS AND SICILIAN PISTACHIOS


CHARCUTERIE
CURED MEAT

TASTING OF THREE 21 TASTING OF SIX 38


JAMÓN IBERICO DE BELLOTA
RARE ACORN FED SPANISH HAM
EXTEMADURA, SPAIN
ADDITIONAL 10

CREMINELLI TRUFFLE SALAMI
WHITE TRUFFLE SALAMI
SPRINGVILLE, UTAH
BIELLESE BRESOLA
SALT CURED BEEF
NEW YORK, NEW YORK
LA QUIERCIA PROSCIUTTO
DRY CURE HAM
NORWALK, IOWA
FRA' MANI SALAME ROSSA
SMOKED SALAMI WITH PISTACHIO
BERKLEY, CALIFORNIA
BOCCALONE NDUJA
SOFT SPICY SALAMI
SAN FRANCISCO, CALIFORNIA
PORCHETTA PRIMATTA
ROASTED BERKSHIRE SUCKLING PIG
LOUISVILLE, KENTUCKY


CHEESE

TASTING OF THREE 14 TASTING OF SIX 28

CREAMY
ANCIENT HERITAGE ADELLE
SHEEP AND COW, OREGON, USA

BOLD
MEADOW CREEK GRAYSON
COW, VIRGINIA, USA

NUTTY
BERGKASE ALT
COW, VORALBERG, AUSTRIA

SMOOTH
SELLES SUR CHER
GOAT, CENTRE, FRANCE

EARTHY
BLU DI BUFALA
WATER BUFFALO, BERGAMO, ITALY

SHARP
CHESHIRE, MRS. APPLEBY'S
COW, HAWKSTONE, ENGLAND

DRY
PECORINO ORO ANTICO
SHEEP, TUSCANY, ITALY



PLAT DU JOUR

ALASKAN KING SALMON 26
NICOISE OLIVES, ROMANO BEANS
HEIRLOOM POTATOES

STEAK FRITES 29
PRIME NEW YORK STRIP
HAND CUT FRIES, SAUCE BÉARNAISE


CHOCOLATE

TASTING OF TWO 6 TASTING OF FOUR 10

NUTTY
CREMINO HAZELNUT AND MILK CHOCOLATE
DRY
CACAO CHUAO AND DARK CHOCOLATE
FRUITY
BADIA MARASCHINO CHERRY AND DARK CHOCOLATE
SWEET
MIGNON MANDARIN ORANGE AND MILK CHOCOLATE
SPICE
SUPREMO COFFEE AND DARK CHOCOLATE
BITTER
PASSIONE RUM AND DARK CHOCOLATE

WINE SELECTIONS


40 GLASS/ 160 BOTTLE WHITE
CLOUDY BAY, SAUVIGNON BLANC "TE KOKO" NEW ZEALAND, 2005
DOMAINE SERENE, CHARDONNAY "ETOILE" WILLAMETTE VALLEY, OREGON, 2004
ALBAN VINEYARDS, VIOGNIER, EDNA VALLEY, CALIFORNIA, 2006
KISTLER, CHARDONNAY "LES NOISETIERS" SONOMA COUNTY, CALIFORNIA, 2007
JARVIS, CHARDONNAY RÉSERVE, NAPA VALLEY, CALIFORNIA, 2005
DOMAINE J.M. BOILLOT, PULIGNY MONTRACHET, 1ER CRU "CHAMP CANET" BURGUNDY, FRANCE, 2006
CHÂTEAU DE FONSALETTE, CÔTES DU RHÔNE, FRANCE, 2005
CHÂTEAU DE LA MALTROYE, CHASSAGNE-MONTRACHET, 1ER CRU "MORGEOT" BURGUNDY, FRANCE, 2005
CHANDON DE BRIAILLES, CORTON BLANC, GRAND CRU, BURGUNDY, FRANCE, 2007
DOMAINE WEINBACH, GEWURZTRAMINER "CUVÉE LAURENCE" KAYSERSBERG, ALSACE, FRANCE, 2005
40 GLASS/160 BOTTLE RED
PAHLMEYER, MERLOT, NAPA VALLEY, CALIFORNIA, 2005
SHAFER, SYRAH "RELENTLESS" NAPA VALLEY, CALIFORNIA, 2005
MERRY EDWARDS, PINOT NOIR "MERIDITH ESTATE" RUSSIAN RIVER VALLEY, CALIFORNIA, 2006
NEWTON "THE PUZZLE" NAPA VALLEY, CALIFORNIA, 2005
MINER FAMILY, CABERNET SAUVIGNON, OAKVILLE, CALIFORNIA, 2006
DOMAINE SERENE, PINOT NOIR "EVENSTAD" RESERVE, WILLAMETTE VALLEY, OREGON, 2005
MONTE FAUSTINO, AMARONE, VENETO, ITALY, 2003
BRAIDA, BARBERA "BRICCO DELL UCCELLONE" PIEMONTE, ITALY, 2000
DOMAINE THIBAULT LIGER-BELAIR, NUITS ST GEORGE, 1ER CRU "LES SAINT GEORGES" BURGUNDY, FRANCE, 2004
ARZUAGA, ESPECIAL RESERVE, RIBERO DEL DUERO, SPAIN, 2004

35 GLASS/140 BOTTLE WHITE
HUDSON VINEYARDS, CHARDONNAY, CARNEROS, NAPA VALLEY, 2006
LEWIS, CHARDONNAY, NAPA VALLEY, CALIFORNIA, 2007
NEWTON, CHARDONNAY "UNFILTERED" SPRING MOUNTAIN, CALIFORNIA, 2006
SCHOLIUM PROJECT, SAUVIGNON BLANC "CENA TRIMALCHIONIS" CALIFORNIA, 2005
JERMAN, "VINTAGE TUNINA" FRIULI, ITALY, 2006
JOH. JOS. PRÜM, RIESLING "AUSLESE" WEHLENER SONNENUHR, MOSEL-SAAR-RUWER, GERMANY, 2006
DOMAINE PAUL BLANK, RIESLING GRAND CRU "SCHLOSSBERG" ALSACE, 2004
CHÂTEAU FUISSÉ, POUILLY-FUISSÉ "LES CLOS" BURGUNDY, FRANCE, 2006
DOMAINE SERVIN, CHABLIS GRAND CRU "LES PREUSES" FRANCE, 2007
CHÂTEAU DE PULIGNY MONTRACHET, CHASSAGNE-MONTRACHET, FRANCE, 2006


35 GLASS/140 BOTTLE RED
AU BON CLIMAT, PINOT NOIR "KNOX ALEXANDER" SANTA BARBARA, CALIFORNIA, 2005
GEORGE WINES, PINOT NOIR "SONOMA COMA" CALIFORNIA, 2007
JORDAN WINERY, CABERNET SAUVIGNON, SONOMA COAST, CALIFORNIA, 2005
JUSLYN, CABERNET SAUVIGNON "VINEYARD SELECT" NAPA VALLEY, CALIFORNIA, 2003
DUCHAMP, SYRAH "GRAND MASTER" ESTATE, SONOMA COUNTY, CALIFORNIA, 2005
SANGUIS WINES "INFIDELS" SANTA MARIA, CALIFORNIA, 2006
ODDERO, BAROLO, PIEMONTE, ITALY, 1999
DANTE RIVETTI, BARBARESCO "BRICCO DI NEIVE" PIEMONTE, ITALY, 2000
ALAIN BURGUET, GEVREY CHAMBERTIN "MES FAVORITES" VIEILLES VIGNES, BURGUNDY, FRANCE, 2004
CHÂTEAU D'ARMAILHAC, PAUILLAC, BORDEAUX, FRANCE, 2006

30 GLASS/120 BOTTLE WHITE
KISTLER, CHARDONNAY "VINE HILL VINEYARD" RUSSIAN RIVER VALLEY, CALIFORNIA, 2006
GRGICH HILLS, CHARDONNAY, NAPA VALLEY, CALIFORNIA, 2006
LANDMARK VINEYARDS, CHARDONNAY "LORENZO" SONOMA COAST, CALIFORNIA, 2006
MERRY EDWARDS, SAUVIGNON BLANC, RUSSIAN RIVER VALLEY, CALIFORNIA, 2008
ZIND-HUMBRECHT, RIESLING "HERRENWEG DE TURCKHEIM" ALSACE, 2006
HIRTZBERGER, GRÜNER VELTLINER SMARAGD, WACHAU, AUSTRIA, 2007
F.E. TRIMBACH, GEWURZTRAMINER "SEIGNEURS DE RIBEAUPIERRE", ALSACE, 2007
DOMAINE LEFLAIVE, BOURGOGNE, FRANCE, 2006
CHÂTEAU DE BEAUCASTEL, COUDOULET DE BEAUCASTEL, CÔTES DU RHÔNE, FRANCE, 2007
MILES MOSSOP, CHENIN BLANC/ VIOGNIER "SASKIA" SOUTH AFRICA, 2006
30 GLASS/120 BOTTLE RED
MERRY EDWARDS, PINOT NOIR, SONOMA COAST, CALIFORNIA, 2006
ROBERT FOLEY VINEYARDS, MERLOT, NAPA VALLEY, CALIFORNIA, 2006
GRGICH HILLS, CABERNET SAUVIGNON, NAPA VALLEY, CALIFORNIA, 2005
ROBERT STEMMLER VINEYARD, CABERNET SAUVIGNON, SONOMA COUNTY, CALIFORNIA, 1991
LEMELSON, PINOT NOIR "THEA'S SELECTION" WILLAMETTE VALLEY, OREGON, 2006
NINO NEGRI, SFURSAT, VALTELLINA, LOMBARDIA, ITALY, 2005
DANTE RIVETTI, BARBARESCO "BRICCO DI NIEVE" PIEMONTE, ITALY, 2004
FELSINA, CHIANTI CLASSICO "RESERVA" TUSCANY, ITALY, 1995
STEPHEN ROSS, PETIT SYRAH "THOMANN STATION" NAPA VALLEY, CALIFORNIA, 2004
DOMAINE DU GRAND TINEL "CUVÉE ALEXIS ESTABLET" CHÂTEAUNEUF DU PAPE, RHÔNE VALLEY, FRANCE, 2005


25 GLASS/100 BOTTLE WHITE
RUDD, SAUVIGNON BLANC, NAPA, CALIFORNIA, 2007
FLOWERS, CHARDONNAY, SONOMA COAST, CALIFORNIA, 2007
NIEBAUM-COPPOLA, RUBICON ESTATE "BLANCANEAUX" RUTHERFORD, CALIFORNIA, 2007
J. DONABAUM, RIESLING SETZBERG, SMARAGD, WACHAU, AUSTRIA, 2006
MOVIA, RIBOLLA GIALLA "VELIKO BIANCO" SLOVENIA, 2003
JOH. JOS. PRÜM, RIESLING "SPÄTLESE" WEHLENER SONNENUHR, MOSEL-SAAR-RUWER, GERMANY, 2006
SCUBLA "POMEDES" FRIULI, ITALY, 2004
BOUCHARD PÈRE&FILS;, MEURSAULT "LES CLOUS" BURGUNDY, FRANCE, 2006
DOMAIN J PITHON, SAVENNIÈRES "LA CROIX PICOT" LOIRE VALLEY, FRANCE, 2005
CHÂTEAU LE NERTHE, CHÂTEAUNEUF DU PAPE BLANC, 2007
25 GLASS/100 BOTTLE RED
ROBERT SINSKEY, MERLOT "RESERVE" LOS CARNEROS, CALIFORNIA, 2004
MCPRICE MYERS, SYRAH "LARNER VINEYARD" SANTA YNEZ VALLEY, 2005
HEITZ, CABERNET SAUVIGNON, NAPA VALLEY, CALIFORNIA, 2004
MCPRICE MYERS "ATLAS VINAS" CALIFORNIA, 2006
VALDICAVA, ROSSO DI MONTALCINO, TUSCANY, ITALY, 2007
NICOLAS POTEL, VOLNAY "VIEILLES VIGNES" BURGUNDY, FRANCE, 2005
CHÂTEAU LA ROGUE, ST.EMILLION GRAND CRU CLASSÉ, BORDEAUX, FRANCE, 2000
CHÂTEAU DE PIBARNON, BANDOL, FRANCE, 2005
AFINCADO, MALBEC, TERRAZAS DE LOS ANDES, ARGENTINA, 2005
MOLLYDOOKER, SHIRAZ "BLUE EYED BOY" AUSTRALIA, 2006


20 GLASS/80 BOTTLE WHITE
JORDAN WINERY, CHARDONNAY, RUSSIAN RIVER VALLEY, CALIFORNIA, 2007
FRANK FAMILY VINEYARDS, CHARDONNAY, NAPA VALLEY, CALIFORNIA, 2007
SCHOLIUM PROJECT "DULCISSIMA CAMILLA" CALIFORNIA, 2007
SCHOLIUM PROJECT VERDELHO "GAMELLA" LOST SLOUGH VINEYARD, CALIFORNIA, 2007
MINER, VIOGNIER "SIMPSON VINEYARD" NAPA VALLEY, CALIFORNIA, 2006
VILLA RAIANO, GRECO DI TUFO, CAMPANIA, ITALY, 2007
HIRTZBERGER, GRÜNER VELTLINER "ROTES TOR" FEDERSPIEL, WACHAU, AUSTRIA, 2007
LAGLER, RIESLING SETZBERG, FEDERSPIEL, WACHAU, AUSTRIA, 2007
20 GLASS/80 BOTTLE RED
GARY FARRELL, PINOT NOIR, RUSSIAN RIVER VALLEY, CALIFORNIA, 2006
BARRELL 27, SYRAH "HEAD HONCHO" SANTA BARBARA, CALIFORNIA, 2006
WÖLFFER ESTATE, MERLOT, LONG ISLAND, NEW YORK, 2004
COLTIBUONO, CHIANTI CLASSICO, TUSCANY, ITALY, 2006
LES TOURELLES DE LONGUEVILLE, PAUILLAC, BORDEAUX, FRANCE, 2006
TINTO PESQUERA, RIBERO DEL DUERO, SPAIN, 2005
BODEGAS RAMON BILLBAO, GRAN RESERVA RIOJA, SPAIN, 1999
HAMILTON RUSSELL, PINOT NOIR, SOUTH AFRICA, 2007

15 GLASS/60 BOTTLE WHITE
AU BON CLIMAT, CHARDONNAY "SANFORD & BENEDICT" SANTA BARBARA, CALIFORNIA, 2005
WÖLFFER ESTATE, CHARDONNAY, LONG ISLAND, NEW YORK, 2006
ALAIN GUENEAU, SANCERRE "LA GUILBERTE" LOIRE VALLEY, FRANCE, 2007
JOH. JOS. PRÜM, RIESLING "KABINETT" MOSEL-SAAR-RUWER, GERMANY, 2007
SCUBLA, PINOT BIANCO, FRIULI, ITALY, 2007
MANICOR, MOSCATO GIALLO, ALTO ADIGE, ITALY, 2008
WILLIAM FÈVRE, CHABLIS "CHAMPS ROYAUX" BURGUNDY, FRANCE, 2007
15 GLASS/60 BOTTLE RED
AU BON CLIMAT, PINOT NOIR "LA BAUGE AU-DESSUS" SANTA BARBARA CALIFORNIA, 2006
HEITZ, ZINFANDEL NAPA VALLEY, CALIFORNIA, 2005
LANDMARK VINEYARDS, SYRAH "STEEL PLOW" SONOMA COUNTY, CALIFORNIA, 2006
BEDELL, MERLOT, LONG ISLAND, NEW YORK, 2007
WENINGER ZWEIGELT, MITTELBURGENLAND, WACHAU, AUSTRIA, 2007
BRAIDA, BARBERA DI ASTI "MONTEBRUNA" PIEMONTE, ITALY, 2006
GUADO AL TASSO "IL BRUCIATO" TUSCANY, ITALY, 2007
12 GLASS/48 BOTTLE WHITE
STAG'S LEAP WINE CELLARS, SAUVIGNON BLANC, NAPA VALLEY, CALIFORNIA, 2007
NEWTON, CHARDONNAY "RED LABEL" SPRING MOUNTAIN, CALIFORNIA, 2007
PRA, SOAVE CLASSICO "STAFORTE" VENETO, ITALY, 2007
LAGLER, GRÜNER VELTLINER "BURGBERG" FEDERSPIEL, WACHAU, AUSTRIA, 2007
12 GLASS/48 BOTTLE RED
DR.KONSTANTIN FRANK, CABERNET FRANC, FINGER LAKES, NEW YORK, 2007
CIRO, DUCA SAN FELICE, GAGLIOPPO RISERVA, CALABRIA, ITALY, 2005
LAFITE ROTHSCHILD/CATENA, MALBEC "AMANCAYA" ARGENTINA, 2007
JOSEPH DROUHIN, CHOREY LES BEAUNE, BURGUNDY, FRANCE, 2006


CELLAR SELECTION
SCREAMING EAGLE, CABERNET SAUVIGNON, NAPA VALLEY, 2005 4,000
SCREAMING EAGLE, CABERNET SAUVIGNON, NAPA VALLEY, 2003 2,400
MORAGA, CABERNET SAUVIGNON, BEL AIR, CALIFORNIA, 1994 560
MORAGA, CABERNET SAUVIGNON, BEL AIR, CALIFORNIA, 1996 490
CHÂTEAU MOUTON ROTHSCHILD, PAUILLAC, BORDEAUX, FRANCE, 1982 4,000
PÉTRUS, SAINT EMILION, BORDEAUX, FRANCE, 1979 2,600
CHÂTEAU MARGAUX, MARGAUX, BORDEAUX, FRANCE, 1996 2,200
CHÂTEAU LAFITE ROTHSCHILD, PAUILLAC, BORDEAUX, FRANCE, 1989 2,000
CHÂTEAU HAUT-BRION, PESSAC-LÉOGNAN, BORDEAUX, FRANCE, 1999 1,600
CHÂTEAU LATOUR, PAUILLAC, BORDEAUX, FRANCE, 1988 1,500
CHÂTEAU LYNCH BAGES, PAUILLAC, BORDEAUX, FRANCE, 1996 700
DOMAINE DE LA ROMANÉE CONTI, RICHEBOURG GRAND CRU, BURGUNDY, FRANCE, 1989 4,800
CHÂTEAU DE BEAUCASTEL, CHÂTEAUNEUF DU PAPE, RHÔNE VALLEY, FRANCE, 1990 750
RIOJA ALTA "VINA ARDANZA" SPAIN, 1987 290
RIOJA ALTA "VINA ARDANZA" SPAIN, 1989 260

CHAMPAGNE
SOTER "BLANC DE BLANC" YANHILL COUNTY, OREGON, 1997 16/90 30/170
KLUGE ESTATE "BLANC DE BLANC" VIRGINIA, 2005 30/170 16/90
LOUIS ROEDERER, NV 1,100 120
MOËT & CHANDON IMPÉRIAL, NV 480 120
VEUVE CLICQUOT "YELLOW LABEL" 25/140 130
BRUNO PAILLARD "RÉSERVE PRIVÉE" BLANC DE BLANCS, NV 120 160
PAUL GOERG BRUT, BLANC DE BLANCS, NV 200 120
BOLLINGER SPECIAL CUVÉE, NV 450 35/200
KRUG, GRANDE CUVÉE, MV 700 450
MOËT & CHANDON, BRUT IMPÉRIAL ROSÉ, NV 25/140
PAUL GOERG, BRUT ROSÉ, NV 140
RUINART, ROSÉ NV 140 35/200
DOM PÉRIGNON, 2000 480
LOOUS ROEDERER, CRISTAL, 2002 130 500
KRUG, 1996 700
The Garden Restaurant and Wine Bar, 57 E. 57th St., nr. Park Ave.; 212-758-5700