Marcus Samuelsson's Uptown Cover: Crush With Eyeliner
The chef is plunging into the world of dude food, but he's still okay with eye makeup.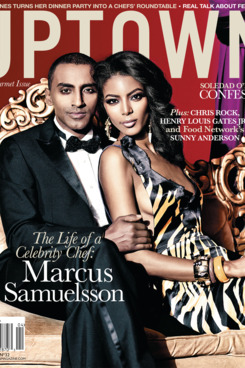 After appearing in pretty much every single media outlet known to man (safe to say he's blown past David Chang as the industry's most everywhere chef), Marcus Samuelsson recently went ahead and launched an outlet of his own. According to the mission statement of Food Republic ("the site for men who want to eat and drink well, and to live smart"), Samuelsson co-founded it under the premise that "men are underserved in today's conversation about food." But before you go thinking the Chef of All Media is plunging headlong into the unseemly realm of dude food, know that the man is still in touch with his feminine side. Yes, that's him on the cover of the new issue of Uptown, sporting enough eye makeup to get any other cook laughed out of a kitchen, but with a wife like Maya Gate Haile, who's going to say boo about it? The story is print-only, but you can find outtakes from the photo shoot here.