Jay-Z Watched the Super Bowl at 40/40; Giants Enjoy Trophy Cake at Abe & Arthur's
Plus: Courtney Love performed at the Highline Ballroom, Rose Byrne brunched, and more, in our weekly roundup of celebrity dining.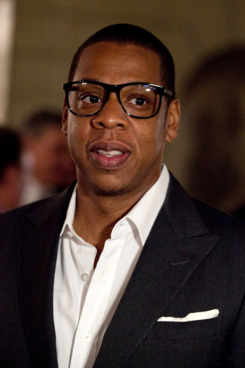 As you know, the New York Giants won the Super Bowl (go sports!) so anything that happened this week had an appropriate feeling of celebration. Moreover, it allowed the Giants players to do pretty much whatever they wanted, wherever they wanted, whether that was Eli Manning stuffing his face with a trophy-shaped cake or Osi Umenyiora convincing a chef to whip up some chicken, despite the kitchen being closed. All this and more celebrity sightings, straight ahead.
40/40: Jay-Z made an appearance at his club this past week, kicking it with CC Sabathia and Carmelo Anthony during the Super Bowl. After the Giants' victory, the club celebrated with a group rendition of "Empire State of Mind." [Page Six/NYP]
His wife Beyoncé also ventured out for the second time since the birth of their beautiful baby, Blue Ivy, reportedly partying till 3 a.m. with CC Sabathia and his wife Amber. Quick poll: What's the estimate on that babysitter's wages? [Page Six/NYP]
Abe & Arthur's: Giants Brandon Jacobs, Greg Jones, Eli Manning, Corey Webster, and team owner Steve Tisch all arrived, and the restaurant served the group a trophy-shaped cake. [Page Six/NYP]
Doubles: Arlene Dahl and Marc Rosen threw Elaine Stritch a surprise 87th birthday party earlier this week, and she told the Post it was "the most adorable party." Also, she thinks that dog from The Artist should win an Oscar. [Page Six/NYP]
Highline Ballroom: Courtney Love performed at tech-dude Michael Saylor's birthday party, and afterward she said exactly what you'd expect from Courtney Love: "I don't know who the [bleep] Michael Saylor is, but happy birthday and thanks for the free drinks." Well, okay! [Page Six/NYP]
The Red Room: Kris Humphries doesn't seem too interested in women at the moment, at least according to sources who saw him out in Manhattan earlier this week. Girls flocked, but the freshly divorced NBA player chose to politely watch the game. Smart move, considering this guy is an expert in short-term relationships. [Page Six/NYP]
Pastis: Rose Byrne pleasantly brunched with two friends this past Sunday, but unfortunately without Glenn Close. [Grubstreet]
Tao Asian Bistro: Despite arriving at 12:15 a.m. — after the kitchen was closed — Giant Osi Umenyiora still convinced the chef to whip up some sea bass satay, chicken, and other specialties. Reportedly, the manager said it was "the least we could do after the excitement the Giants provided us on Sunday." There you have it: Next time you're looking for a late dinner, just call up a Super Bowl champion. Lesson learned! [Page Six/NYP]