Jay-Z Says No to Booze at the Jimmy; Lindsay Lohan Dines Sober at Kibo Post-SNL
Plus: an impromptu 'Sex and the City' reunion at Orso, Mick Jagger does a little dancing at Double Seven, and more, in our weekly roundup of celebrity dining.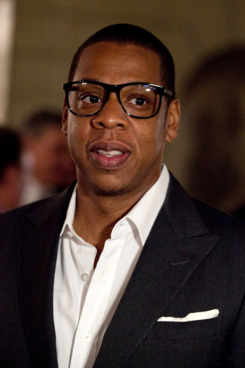 If temperatures are to believed, spring is here! Well, kind of. Or at least it was here on Thursday. So it's no surprise that this past week was full of celebrities venturing out into the city. Jay-Z declined any booze while partying because he's a new dad; David Byrne enjoyed a nice lunch with a couple of friends; and Lindsay Lohan dined late after her SNL hosting responsibilities ended. All this, and more celebrity settings, straight ahead.
A Voce: Oscar winner Adrien Brody lunched with a guest on Monday. [Grub Street]
Double Seven: Mick Jagger showed off the original Jagger moves, as he danced to a rock mash-up of MGMT, the Doors, David Bowie, and Talking Heads. [Page Six/NYP]
Forty Four: Stanley Tucci dined with New York Times editor Stuart Elliott. [Grub Street]
Jimmy: Jay-Z showed up with Beyoncé for a friend's birthday party, but rather than take shots, the new father did the responsible thing: ordered a nonalcoholic cocktail and a grilled cheese. And he left by midnight. [Page Six/NYP]
Kibo: Lindsay Lohan enjoyed a late-night dinner with the SNL cast after she hosted last week, but didn't partake in the more extreme after-party, sticking to her commitment to clean up her image. [Page Six/NYP]
Ovest: David Byrne wore a blue button-down as he dined with a few friends on Thursday. [Grub Street]
Orso: Sarah Jessica Parker and Cynthia Nixon had themselves an impromptu Sex and the City reunion as they enjoyed a late dinner after Nixon's current production, Wit. [Page Six/NYP]
Primola: Paul McCartney's wife Nancy Shevell ate with her father at the Upper East Side establishment. [Page Six/NYP]
Stone Rose Lounge: Mary-Kate Olsen supported her younger sister Elizabeth at a party thrown for her new film, Silent House. [People]